News
Here are the stories that reflected the latest updates and press releases about the Trust's activities, achievements and special announcements between 2012 and 2015.
(To view the Top Stories from previous years, click here for 2010 to 2011; Here for 2009; Here for 2008, and here for 2007 and earlier archives.)
Top Stories
Missing Kiwi Found!
There were plenty of smiles and much jubilation today when our kiwi chick contractor and dog handler, Jo Sim contacted Melody McLaughlin today to say that her trained kiwi dog 'Rua' had pinpointed kiwi Bilbo's burrow in the Rimutaka Forest Park.
Bilbo (AKA SO12) had been missing for over a year since he dropped his radio transmitter, so it was wonderful to get him back among our monitored kiwi population sample again.
That wasn't the only news. Huddled underneath him for warmth and protection, were two gorgeous wee chicks!
After Bilbo had a shiny new radio tracking transmitter affixed to his leg once more, Jo put the chicks into a container and brought them out of the bush for transfer to the sanctuary at Pukaha Mt. Bruce.
A couple of hours later, Doc kiwi specialist at Pukaha Mt. Bruce, Jess weighed the chicks in at 203 grams (BO1)and 225 grams (BO2) before placing them into separate chick rearing pens for the night.
Following a series of recent egg lifts (Operation Nest Egg) Jess is also managing 4 kiwi eggs taken from burrows in the Rimutaka Forest Park which she informed me, are all progressing well - one has externally pipped and another is about to hatch at any moment!
Kiwi Aversion Training for Dogs - Saturday 12th November & Sunday 13th November, 2016
Attention Dog Owners:
Rimutaka Forest Park Trust is running two days of kiwi aversion training sessions for hunting or pet dogs on Saturday 12 and Sunday 13 November with our experienced trainer, Jim Pottinger.
This training is for dogs that are due a refresher course and also for new dogs.
The training will be held at the Catchpool Centre near the main entrance to the Rimutaka Forest Park, 300m in from the Coast Road, Wainuiomata.
This is provided to you at a small cost of $10 per dog (up to a maximum of $30 for 3 or more dogs). We have some sponsorship which will cover the remaining training fee.
Get your dog trained:
Would you ike to book in your dog(s)? We will try to accommodate your preferred time; morning, midday or afternoon, but times need to be little flexible as the time taken to train a dog varies from 10 minutes to 20 minutes and some time slots are more popular. For a booking, we need your preferred day and time preference, plus full name and phone number and your dog's name.
Please reply by email, to Rosemary Thompson .
BNZ Closed For Good
A large group of BNZ Bank employees will be coming out to the Catchpool Valley to plant native trees again this week as part of this year's BNZ Closed For Good Volunteer Day activities.
Give a Gift that Makes a Difference...
Here's an idea that might solve your gift-giving dilemma AND Save the Planet!
The Rimutaka Forest Park Trust has some excellent Sponsorship Package Options available for those who wish to support our conservation efforts and delight the receiver with a thoughtful gift that will last for years and contribute to improving the health of our wonderful native biodiversity.
For example, you can:
Sponsor a Kiwi ($50) and/or
Sponsor a Trap ($30) and/or
Sponsor a Tree ($30)
For more details of our various sponsorship packages, please click here...
Catchpool Earth Day 2016
Friday 22nd April, 2016 9:30 - 12:30
Join DOC, Hutt City Council, the Rimutaka Forest Park Trust, US Ambassador Mark Gilbert and the US Embassy Team at a tree planting and conservation celebration event at the Catchpool Valley, Rimutaka Forest Park.
This will mark the official opening of our latest Eco-Hotspot in the Catchpool Valley and the US Embassy Team will be celebrating the 100th Anniversary of the National Parks Service in the USA.
Meet at the Trust kiosk at the top car park at 9:30am.
Wear outdoor clothes and sturdy footwear suitable for tree planting and an easy walk through beautiful native bush.
This is a Free Event. Trees and tools supplied by the Catchpool Restoration Project.
Kiwi Aversion Training for Dogs
Dear Dog owners,
We are running a one day kiwi aversion training for hunting or pet dogs on Sunday 1 May, 2016 with our experienced trainer, Jim Pottinger.
Dogs find the smell of kiwi irresistible and only have to clamp their jaws on a kiwi to kill it.
This training helps protect the 100 kiwi in the park.
The training will be held at the Catchpool Visitors Centre in the Rimutaka Forest Park, Wainuiomata. This is provided to you at a small cost of $10 per dog up to a maximum of $30 for 3 or more dogs. (We have some sponsorship which will cover the remaining training fee).
If you would like to book in your dog(s), please contact Rosemary Thompson on (04) 569 4764 or 021 044 3279 or email sponsors@rimutakatrust.org.nz
We will try and accommodate your preferred time, morning, midday or afternoon, but times need to be little flexible as the time taken to train a dog varies from 10 minutes to 20 minutes.
For a booking we need your full name and contact details, your dog's name and your preferred time.
Little Blue Penguins avoidance training for dogs will be held in Eastbourne on Saturday 30 April with Jim.
To find out more and book in please email Sally Bain pfp.easternbays@gmail.com
Thank you,
From the team at the Rimutaka Forest Park Trust.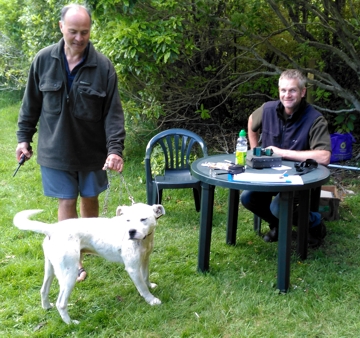 Jim Pottinger (right) talks to a dog owner ahead of his dog's Kiwi Avoidance Training session during the most recent KAT for dogs weekend conducted in November, 2015.
Annual General Meeting
Rimutaka Forest Park Charitable Trust Inc

.



Tuesday 20th October 2015 - 7.30pm

Last night's AGM was followed by an excellent and well-received talk by Hugh Robertson, an eminent wildlife scientist & ecologist with long experience in kiwi research. His subject matter was of course NZ kiwi and their prospects for species survival. 'Can the Decline of Kiwi be Reversed?'

'
Dr Hugh Robertson speaking to members and guests of the Rimutaka Forest Park Trust at their AGM last night.
Photo credit: PC
---
40 More Dogs Trained to Avoid Kiwi
Jim Pottinger, a canine kiwi aversion trainer registered with DOC, put 40 dogs through the Trust's Kiwi Aversion Training Programme last weekend, bringing the total number of dogs trained at the Catchpool to more than 300 to date.
21 hunting dogs and 19 pets were put through the system - though these dogs were mainly dogs that attended for reinforcement of their previous training.
Training habituation lasts 12 or 24 months depending on the dog and follow-up reinforcement training is needed 12 months after the initial session for full certification.
The Hutt City Council kindly loaned us a microchip reader for use on the day which was very useful.
This training was generously sponsored by BP matching employee volunteer hours through the Charities Aid Foundation in UK.
Next Kiwi Aversion Training Session for Dogs - 7th and 8th November - 2015
The next Kiwi Aversion Training offered by the Trust will occur in November 2015. Details here...
Book NOW! For more information contact Rosemary Thompson on (04) 569 4764 or 021 044 3279
There will also be an opportunity to have your dog trained to avoid PENGUINS. Details here...

Hunting dogs and pets being prepared for their kiwi aversion training session with Jim Pottinger at the Catchpool Centre. The training was provided free because of generous sponsorship from BP matching employee volunteer hours through the Charities Aid Foundation in UK.
Pest Fest 2015
Sunday, 8th November, 2015 (9am until 3pm)
The Rimutaka Forest Park Trust will again be represented at this exciting, free annual event. Lots of hands-on and cool activities for kids and much to see and learn.
Bring a weed along from your garden and swap it for a beautiful native plant!
---
Movie Night
Thursday 30th July, 2015 at 6.30pm
Please join us in fundraising for the Rimutaka Forest Park Trust featuring a screening of 'Mr Holmes' - starring Ian McKellen.
This event will take place at the Light House Cinema, 52 Beach Road, Petone.
The price for your ticket includes a glass of wine and nibbles. (Single admission, $25.)
Tickets are available now from Peter Harvey, on 027 446 8117 - or Rosemary Thompson, on 04 569 4764.
Open Day - Catchpool
Sunday 2nd November, 2014 - 10am to 2pm
Catchpool Valley, Rimutaka Forest Park
Celebrate Conservation Week by learning more about the kiwi practically in your backyard! You're invited to join the outdoor festivities at Rimutaka Forest Park. There will be lots of fun, exciting activities going on throughout the day, ranging from live music to painting eggs for stoat traps.
We will also be launching the highly-anticipated Wellington Kiwi Ranger! This is a free interactive programme offered to kids of all ages encouraging kids to get out and explore nature. All you have to do is pick-up the free booklet, complete the activities, and earn your official Kiwi Ranger Badge! So, bring the kids and family—this day will be chock-full of good times to be had!
This free event will include:
free sausage sizzle
live music and entertainment
kiwi Ranger launch
seed collecting and plant activities
specially trained kiwi dog demo
kiwi crafts
a visit from Rimu the kiwi
tracking kiwi game
talk on freshwater critters.
There is no better way to "discover the world you live in" for Conservation Week than coming to visit your local Forest Park.
Details here... Conservation Week Activities (Rimutaka Forest Park). Download the flyer: (PDF 1Mb)
Pest-Fest
Sunday 9th November, 2014 - 9am to 3pm
Waitangi Park - Wellington Waterfront
Come explore pest-fest, a free event dedicated to providing information about New Zealand's pest plant and animals. Join us for a fun-filled day of games and activities for the entire family. There will be spot prizes and giveaways throughout the day.
If you bring in a pest plant, you will receive a free native plant. You may even see a few cool creatures while you're there.
Pest-Fest is an event for all ages. There are tons of opportunities to collect free stuff, play interactive games, find out about current conservation projects around Wellington, learn how trap pests in your own backyard, and get involved with local community groups. Kids can even fill out their very own 'pest-port' with stickers from each booth and go into a prize draw every hour.
Pest-fest will be the closing event for Conservation Week in Wellington so come show your support!
For more information, call Amy Brasch, (DOC) on (04) 470 8434 or download the Pest-Fest flyer... (PDF approx 5mb)
Annual General Meeting
Tuesday 9th September
The Annual General Meeting of the Rimutaka Forest Park Charitable Trust will be held on Tuesday 9th September at the Life City Church, 1-3 Parkway, Wainuiomata, commencing at 7.30 pm. All Welcome!

We have arranged a very topical and interesting after AGM speaker, Kevin Hackwell, Advocacy Manager, Royal Forest and Bird Protection Society of New Zealand'.
Kevin will give us an illustrated address on a fascinating new biodiversity conservation project "A Vision of a predator-free New Zealand, Our equivalent to putting a man on the moon?"
Christchurch namesake killed by dog
One of the kiwi re-introduced by the community in parkland near Wainuiomata has been killed by a dog.
The death of Otautahi has been a blow to volunteers of the Rimutaka Forest Park Trust, which reintroduced kiwi to the park with support from the Department of Conservation (DoC).
Greater Wellington Regional Council, which manages the adjoining Wainuiomata Water Collection and Recreation Areas, strongly support the initiative and will provide more signs in the area to remind dog walkers of their responsibilities.
"Kiwi are synonymous with what makes us New Zealanders; kiwi are resilient birds provided we control introduced predators such as stoat and ferret and man's best friend, our dogs". said trust spokesperson Melody McLaughlin. "If the dog had been kept on a lead, Otautahi would still be alive."
It only takes seconds for a dog to crush a kiwi.
While most people see kiwi as secretive animals, they frequently nest near paths, putting them in harm's way and making them vulnerable to dogs. Otautahi was found beside the track leading into the Recreation Area, where dogs are often walked.
"Most owners would never expect a kiwi to be around paths or their dog to be capable of killing one, but the reality is a kiwi's scent is irresistible to dogs, and kiwi cannot escape them.
Owners need to know where their dogs are at all times and keep them inside or contained at night", said Ms Mclaughlin.
Greater Wellington Regional Council Parks Manager Amanda Cox said that in Wainuiomata we have the only place near urban Wellington where kiwi exist in the wild. "We need dog walkers to help us look after the kiwi, take note of the signs and keep their dogs on leads at all times in the Wainuiomata Recreation Area. It is a change from how people used to let their dogs run free but we think keeping these kiwi safe is worth it."
The kiwi, a three old male, was born in Christchurch a week after the February 2011 earthquake and given the Maori name for Christchurch, Otautahi. He was released into the Rimutaka Forest Park in July 2012 and was monitored by volunteer trackers ever since. He was important to the population as he was a young male, of breeding age, with the potential to produce anywhere upward of 20 chicks in his life time. "His death will be a loss to the region's natural environment and to the memory of the Christchurch earthquake. It's such a sad end," said Ms McLaughlin.
May, 2014 - For more information please contact: Melody McLaughlin on 027 452 4982
Sarah Owen (DOC) with Ian Armitage (President, RFPT) and Nicky Wagner (Parliamentary Private Secretary for Conservation) following Nicky's speech at the Trust's 25th Anniversary celebration. Nicky and Sarah presented the Trust with a cheque for $10,000 in recognition of the conservation work done by the Trust. (Please click for a larger view.) Image supplied.
Family Tree Planting Day - Catchpool
Sunday 8th September, 2013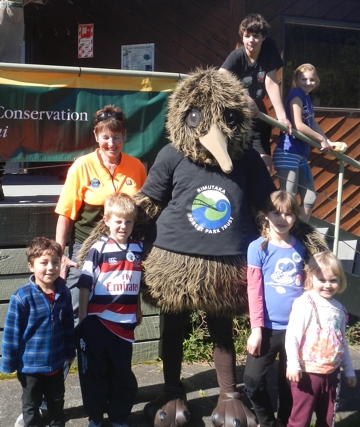 Rosemary Thompson and Rimu the Kiwi surrounded by children at the Planting Day for families at the Catchpool during Conservation Week 2013. (Click for a larger image...) Photo credit: DOC
What a blast! On Sunday a large number of families and many other hardy volunteers came to plant native trees and to enjoy the scenery and abundant wildlife in the Catchpool Valley - the main gateway entrance to the fabulous Rimutaka Forest Park. It was a beautiful, sunny day with very little wind, so conditions were just about perfect.
We supplied the trees, gloves, spades and the team from DOC put on some really nice snacks, a BBQ lunch and hot and cold drinks. Rimu the Kiwi turned up, so the kids had fun during a lovely family outing in very pleasant surroundings. Two very full trailer-loads of native trees were planted.
Species planted included five-finger, northern rata, cabbage trees, nikau, kowhai, totara and karamu.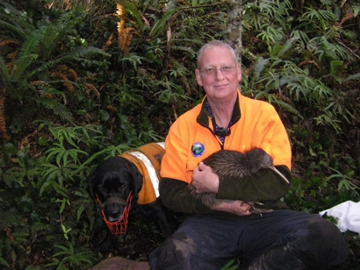 Kiwi dog "Maddie" found male kiwi, "Rush" after he went missing for several weeks due to transmitter failure. Trust kiwi handler Kevin Alekna, shown above holding "Rush", said he was amazed at Maddie's work rate and blown away when she found the burrow. He put a new radio transmitter on "Rush". There was a bonus too, as they found Rushs' mate, "Elemar" in the same burrow! She was without a transmitter as well, so they weighed and health-checked her too for good measure!
Photo credit Jo Sim. (Click for a larger view...)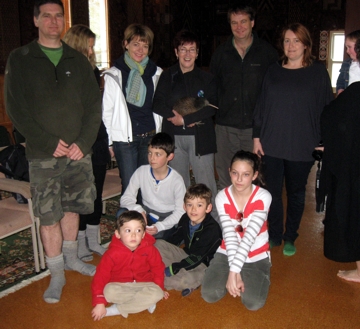 The team from Z Energy with their kiwi, Tahi, following the blessing ceremony at the Wainuiomata Community Marae. (Click for a larger image.) Photo credit: PC
Another kiwi released today...
Saturday, 10th August, 2013
Tahi, a brown kiwi whose parents were Solomon and Hukairoa, was returned to the Rimutaka Forest Park today after a superb welcome and blessing at the Wainuiomata Community Marae.
Sponsors
, Z Energy came along to see their kiwi in the flesh for the first time and the hardiest team members then accompanied the bird up the hill and into the bush.
Tahi was placed into a temporary burrow after being weighed and health-checked again before her first night out in the Rimutaka Forest Park.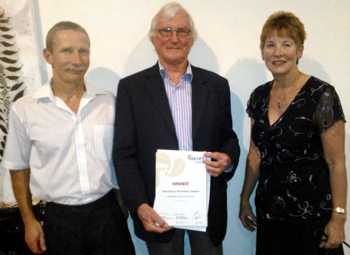 Mike White, Ian Armitage and Rosemary Thompson show off the 2012 Encore Award presented to them by Fran Wilde, Chair of the Greater Wellington Regional Council.

Photo credit: Alan Thompson

That night, our President, Ian Armitage, sent out the following email to fellow Trust volunteers...

"A big congratulations to all volunteers in the Rimutaka Forest Park Trust. At the Encore Awards ceremony held at the City Gallery, Wellington City Civic Centre this evening we were judged the winner of the Recreation Volunteers Award. Well done to you all. There were four finalists and we were both surprised and delighted to be named. A close runner up was the Makara Peak Mountain Biking Group".

The Recreation Volunteers Award presented to us by Ms. Fran Wilde, Chair of the Greater Wellington Regional Council, is one of seven categories of the Encore Award (Community Partnerships Award, Kaitiaki Award, Landowners' Conservation Award, School Environmental Project Award, Excellence in Compliance Award, Environmental Protection Award, Recreation Volunteers Award)."
The Mayor of Hutt City, Ray Wallace presents a 2012 Hutt City Wellington Airport Regional Community Award to The Rimutaka Forest Park Charitable Trust at a ceremony at Silverstream on Tuesday, 18th September. The Trust was the winner in the heritage and environment category. Pictured from left to right are Rosemary Thompson (Vice President) Kelly Anso (Trust Committee) Ray Wallace (Mayor) and Janet Lawson (Trust Committee and Dawn Chorus Coordinator).
Click for a larger image. Photo Credit:- Ross de Rouffignac.
Upcoming Events...
Wainuiomata Water Walks
Sunday 19th May, 2013
Our Wainuiomata Water Catchment neighbours to the west of the Rimutaka Forest Park run regular free walks through rarely-seen pristine native forest so you can learn more about where our top-grade Wellington water supply comes from AND enjoy first-hand the unsurpassed beauty of unspoiled New Zealand lowland native forests and the abundant wildlife it contains!
Book your place on a free guided Wainuiomata Water Walk here: (This link will take you to the Greater Wellington Regional Council's website for Wainuiomata Water Catchment Tours contact and booking purposes.)
For further information contact:
Phone: 04 830 4406
Email: karen.broughan@gw.govt.nz
The recently restored wetlands area adjacent to the caretaker's cottage at the Wainuiomata Water Works is a haven for aquatic wildfowl and native fish. (Click for a larger image)
Updated 5MBC Data
To view a summary of Ian Armitage's latest 5 Minute Bird Count results for the Catchpool Valley and environs, please click here...
Annual General Meeting - 2012
Our Rimutaka Forest Park Trust Annual General Meeting was held at the Wainuiomata Library on Tuesday, 4th September, 2012.
New officers were elected and attendees were treated to a delightful account of our Kiwi Project activities to date by kiwi project coordinator, Melody McLaughlin.
Download the President's Annual Report for 2012 here:
Simon Morton (right) interviews Stu Cockburn (DoC) about the kiwi recorders he designed that we are using to monitor kiwi calls and other birdsong in the Rimutaka Forest Park.
"This Way Up" interview
Radio NZ - National
Saturday, 19th May
Follow this link to the "This Way Up" website at Radio New Zealand to download the audio segment for this broadcast:-
http://www.radionz.co.nz/national/programmes/thiswayup
Better still, click the flag-waving kiwi below to visit the kiwi page on the "This Way Up" website on Radio New Zealand!
---
New website for community groups
There are hundreds of community restoration groups and individual landowners in New Zealand dedicating time and effort to restore our native ecosystems. The Nature Space website supports these people.
Nature Space is a website for groups, individuals and landowners undertaking ecological restoration in New Zealand. It provides valuable information and resources to assist these community groups in their efforts to preserve and protect our precious and varied landscapes.
The conservation work carried out by these communities is vital not only for the intrinsic value of our biodiversity, but also for the health and prosperity of New Zealand.
To view the website, or to add your group, click here:
Thursday, 18th October, 2012 - 7.30pm
The Lighthouse Theatre, Petone
RFPT Fundraising Movie Night - The Angels' Share
Admission $25 per person
Movie starts at 8.00pm
(SOLD OUT!!!) For details and tickets, please contact Rosemary Thompson on (04) 569 4764 - or email her at rosemary.thompson@xtra.co.nz
The Trust gratefully acknowledges the sponsorship, support and encouragement from the following local businesses for this fund-raising effort:
The Department of Conservation
The Interislander
Pak 'n Save Petone
Pak 'n Save Lower Hutt
Lone Star Restaurant (Petone)
Clive's Chemist
Countdown (Wainuiomata)
To see more about these wonderful folk (and other heroes supporting our Trust and its conservation and restoration activies) please visit this page... Our Heroes