Funky forest fungi...
Did you know that New Zealand boasts more than 20,000 species of fungus of which only about 4,000 have so far been fully classified? Most are unique to New Zealand. Many are microscopic in size, but others massive and colourful. Some are edible, though a large number are probably poisonous; but almost all are beautiful to behold during various stages of their life-cycle!
The temperate rain forests of the Remutaka Forest Park provide a superb natural habitat for thousands of different fungi awaiting your exploration and discovery.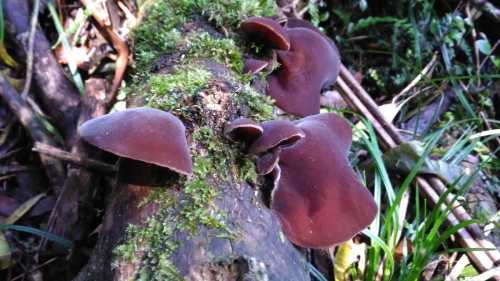 Velvet fungi ... Photo credit: PC.
Fungi Photo Gallery
(Click the thumbnail image for a larger picture):
Fungi Gallery Photo Credits: Margaret Willard.
To see many more photos of fungi observed in the Remutaka Forest Park, please visit our iNaturalist Project here:
https://inaturalist.nz/projects/remutaka-forest-park